Hello!! In this article we are going to go over a hot WordPress plugin designed for dropshipping via AliExpress. The name of the plugin is AliDropship.
Dropshipping is a form of e-commerce where it's not entirely required for you to have your own product. With the dropshipping business model, you can find a supplier of a product (usually right from the manufacturer) and anytime a customer purchases through your online store, the supplier ships straight to your customer.
If you are wondering what some of the advantages are to the dropshipping business model as apposed to a traditional business structure or an e-commerce site using your own product, here's just a few:
Use someone else's product
You never have to touch the actual product or order large inventory to hold in a warehouse
Overhead expenses are relatively low compared to traditional business
No need to manage logistics
Pay for the goods using the funds received by your customers
Focus on activities that directly affect growing your business like marketing, building relationships with your customers, and building your brand
Your main responsibility as a dropshipper is marketing to your target audience. The reason for that is that more and more people are hoping online each and every day. Online sales are continuing to rise as more and more people hop on the internet.
The quicker you can get your brand and your product in front of your audience, the more likely they are in purchasing from you. This is also one of the main advantages of having your own dropshipping site.
It's not always easy finding the right supplier to partner with in order to get your dropshipping operation up and running. These are some of the issues when it comes to finding the right suppliers:
Pictures and Product Catalog – Not all suppliers offer quality pictures for you to use from their catalog. If your selling someone'e products, its nice having pictures that are not watermarked to put on your site that are of great quality.
Integrations – Many suppliers don't have integration points that enable you to automate many tasks associated with running a dropshipping business. With integrations you can automate order processing, product importing from supplier catalog to your site, tracking using suppliers tracking mechanisms, and automatic product updating for things like inventory/out of stock checks. Without much of these automation features, your administrative functions on a day to day basis dramatically increases taking away from things that matter most in growing a business.
Shipping Times and Rates – Most suppliers that you will find are overseas. Given that fact, not all suppliers provide speedy delivery without upcharging you. With most standard shipping times, you are looking at upwards of 14 day deliveries if you are lucky
Product Reviews – A good supplier will have and display their product reviews. The more reviews, good one's at that, tell you that its a decent supplier to go with.
In comes the plugin mentioned at the very beginning, AliDropship. This is a sevice that can be used as an alternative to other e-commerce plus dropship integration combos that are out there such as Shopify and Oberlo.
Connects You With Suppliers
AliDropship connects you with suppliers that are on AliExpress. AliExpress is a huge marketplace similar to Amazon except it's not American based. There are literally tons of suppliers on AliExpress and this plugin makes it easy for you to see top rated suppliers.
Product Browsing and Filtering
They allow you to browse through products listed on AliExpress and import products directly to your store. Using AliDropship enables you to filter through suppliers who offer free and speedy delivery to which they refer to as e-Packet. e-Packet simply means that you don't have to deal with long shipping times.
Google Chrome Extension 
With AliDropship's Google Chrome extension, you are also able to select from any number of product images made available by the supplier making it easy to select the best quality images to add to your store.
Automation
In terms of integrations, using AliDropship you will have your products automatically updated so that as the supplier runs lower on product inventory, they inventory count in your shop is directly reflected. Your customers will see up to date tracking information while you use AliDropship as well. The software check on a regular basis for tracking updates to keep you and the customer informed.
E-commerce Setup Services
What's really great about AliDropship is the additional services that they offer. For new-comers and seasoned online vets alike, I would venture to say that its of great added value that AliDropship offers a service in different flavors where they do all the leg work to build an e-commerce site completely from scratch tailored to a specific niche.
AliDropship will set up all the social media platforms that give you the power of branding and marketing to connect with your audience. Oh an by the way, they don't limit the amount of Products that you can have in your store.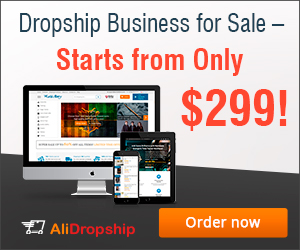 Unlimited number of Products
No limit to how many products you can list in your store using this plugin.
Abandoned Cart
Enjoy this feature to help you increase conversions based on abandoned cart.
Search and Import
This feature allows you to search products AliExpress directly from the search page within the widget dashboard.
This also allows you to import directly from the search to your online store you have set up.
Fulfill Orders Automatically
Simple 'Order' button click to push orders directly to AliExpress
Auto Updating
Keeps your products up to date automatically
Auto Order Tracking
Checks for order updates to keep you and your client informed
ePacket Shipping Filter
If you do not know, ePacket is a way for you to determine which suppliers on AliExpress offer faster and free delivery service from overseas.
This feature alows you to sort through the products whose suppliers fit this criteria
Pricing Automation
An advanced feature that allows you to apply your own pricing formula depending on various factors.
Dashboard and Statistics
Integrate Google Analytics with AliDropship and get detailed stats on your visitors' interactions with your product pages.
Dashboards to pull in all relevant information for you to analyze.
Integrations for automation
Marketing Capabilities Built In Through Cart Abandonment
Large Resource and Knowledge Base for Help
Currently Just For WordPress
Most Suppliers Are Overseas So Consider Shipping Times and Always Use e-Packet
Over-customization may be too much for those in need of hand holding
This plugin is a great alternative to the Shopify Oberlo duo. If you are like me and enjoy getting your hands dirty with your projects, understanding what's under the hood, and are in or getting into the dropshipping business then this plugin/service is worth a look.
As mentioned, this product is currently only compatible with WordPress, so please familiarize yourself with WordPress or at least get an understanding of what it is. I truly believe that WordPress is something that anyone can pick up given where I was a couple of years ago with no background in any of this.
If you're looking for a platform that has much more customization out the gate with a great support community around it then WordPress plus AliDropship may be for you.
Check back every now and then to my site and I promise to compile a valuable list to show you various alternatives to help in this process.
Get The Plugin and Start Your Dropship Business Right Away!
Need Help Setting Up Shop?